A Stronger Body Can Lead to a Stronger Mind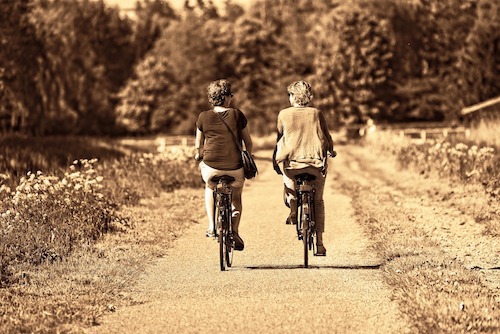 Is your mind sharp?
Do you have trouble remembering things?
Do you want to improve your overall health?
Does physical activity really have a positive impact on your health and mind?
According to the Global Council on Brain Health, "people who participate in purposeful exercises show beneficial changes in brain structure and function, and those who lead a physically active lifestyle have a lower risk of cognitive decline.
Purposeful exercise can include anything that gets people moving in a way that increases physical strength and endurance, such as walking, running, cycling, strength training and exercise classes."
At Hillside Terrace, we offer many opportunities for physical exercise including: NuStep, daily exercise class, volleyball, bocce ball, and a walking group.
You can combine purposeful exercise and healthy lifestyle habits at any age. It isn't necessary for adults to drastically alter their current lifestyle to reap the physical and mental benefits of exercise. You just need to make a few tweaks that can have a larger impact on overall health. We can help you live a longer and happier life!
Quality Assisted Living in Ann Arbor, Michigan
At Hillside Terrace, we put ourselves in your shoes. We want you to feel right at home! We treat our residents and their families the way we'd want to be treated if our roles were reversed.
We'll help you make a smooth transition into the community of your choosing, including:
1. The Palms
2. The Orchard
3. The Vineyard
4. The Gardens
For floorplan information and availability for assisted living in Ann Arbor, please contact us today at (734) 761-4451.
Get Started Today: Schedule a Tour!
Our "Aging by Choice" philosophy allows a flexibility of options for our residents and their families; you choose what is best for you, and we make it possible. We're confident in our ability to provide the best quality of care, the security, and the family atmosphere that you're seeking! We warmly invite you to see the difference we can make when your family shares life with our family.
We can help your family create peace of mind. When you're at home you'll know your loved one is taken care of and in good hands. Schedule a tour of Hillside Terrace today!