Our Residents, Families and Staff Say It Best at Hillside Terrace Retirement Community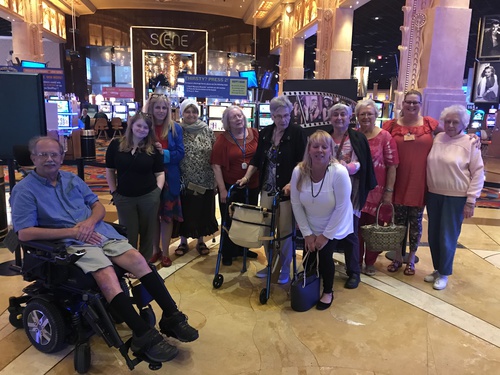 Casino Night!
It was almost ten years ago, that my terminally ill wife of 70 years and I came to Hillside Terrace Senior Care Centers in Ann Arbor after 64 years in the ministry. We couldn't have found a better place for her loving care until her passing. I have continued my ministry as Hillside's Volunteer Chaplain, and I'm a resident in the Orchards Independent Living. The entire staff does an outstanding job of caring for all our needs, and more. We are like family with the best of food, exercise, and activities -- and that makes our days a pleasure.
Loving and living life!
Pastor Murl Eastman
I was married to Victoria Prodan Swain for 62 years. About the year 2008, Vicki developed the signs of dementia. I tried to take care of her at home, and for a while that was successful. But the day came when I could no longer do the job. If Vicki fell out of bed, for instance, I was unable to put her back by myself; I had to call the fire department to come to our house and rescue her. That precipitated a decision: move Vicki now! By the happiest of accidents Hillside Terrace Senior Care Centers was only a mile from our house, and only a mile and a half away from our son's house. We did not look at any other facility. We just moved Vicki to Hillside Terrace. After she was living at Hillside Terrace, I had nothing in particular to do, so I sat with Vicki for several hours a day, and just looked around. I liked what I saw, particularly the manner in which the whole staff treated all the residents. After a few months Vicki died, and not long after I said to Nanya, "I think I will sell my car and move in here." She said, "Any day." I know how lucky I was to blindly choose Hillside Terrace.

Henry H. "Doc" Swain, M.D.
When the time came to look for assisted living for my parents, we looked around Ann Arbor and the Detroit area. Hillside Terrace seemed like a good choice then, and we had a recommendation from a friend. Well, Hillside turned out to be more than a good choice, it has been a great choice for us -- better in so many more ways than we could have imagined. We have not only benefited from excellent care, but also excellent communication. People who work there in every capacity are friendly and responsive. The medical staff and assistants have earned my respect for their skills and knowledge, and I can say the same for the kitchen staff, the maintenance staff and the administration. And after more than two years of being part of this community, I have experienced countless examples of sincere compassion and expert assistance. At Hillside, there is an atmosphere of respect for seniors, and real joy in helping to make this time of life as comfortable, happy and interesting as possible.

Barbara Hall
I have loved, laughed, and cried with so many residents and family members that will live on in my heart and memories, and have influenced my life in so many ways. I am certainly a better person having met and cared for the residents at Hillside Terrace over the past five years.
Resident Care and Employee Coordinator
Tim Hart
It has been several months since my mother, Catherine, passed away. Not a day goes by when I don't think about the wonderful care and kindness she received from you...the people of Hillside Terrace. You should be so proud of what you do for the residents. Treating these wonderful, aging people with dignity and respect is so important and admirable. Every time you smile, spend time with a resident or show patience (even when it is not easy) you are doing such good work. I truely believe it is God's work and you are his hands. You bring real joy into the lives of people who might not have too much to be happy about. And you deliver comfort to family members who want to see that their loved one receives excellent care. Thank you for not just "doing your job" but for going beyond the job requirements.

Gene Laporte