Is Hospice Care in Ann Arbor Right For You?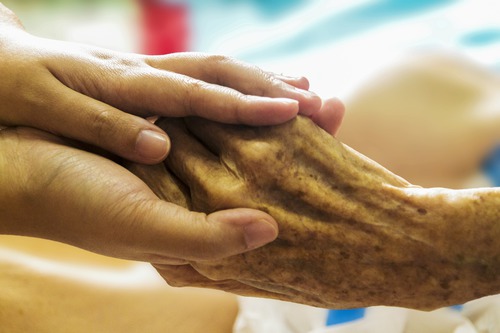 Do you want to improve the quality of your life?
Are you having a hard time managing daily activities?
Would you or someone you know benefit from counseling and social support?
How do you know you're making the right decision when it comes to hospice care?
When it comes to choosing an attractive, affordable senior living option for yourself or someone you care about, you want something special. At Hillside Terrace we offer a cozy neighborhood setting on 10 acres of orchards and beautiful gardens.
Get Started Today: Schedule a Tour!
We can help your family create peace of mind. When you're at home you'll know your loved one is taken care of and in good hands. Hillside Terrace – "Where our family shares life with your family!" Come see the difference we can make when your family shares life with our family. Schedule a tour of Hillside Terrace today– a facility for hospice care in Ann Arbor.
Contact us for more information about hospice care offered at Hillside Terrace!
Hospice Care in Ann Arbor: Make Hillside Terrace Your Home Away From Home!
At Hillside Terrace, we provide hospice care in Ann Arbor and the surrounding areas of Saline, Milan, and Dexter. We offer a diverse combination of residents that will quickly become members of your loved one's family.
Our "Aging by Choice" philosophy allows a flexibility of options for our residents and their families; you choose what is best for you, and we make it possible. We're confident in our ability to provide the best quality of care, the security, and the family atmosphere that you're seeking! We warmly invite you to see the difference we can make when your family shares life with our family. Schedule a tour of Hillside Terrace today.
Questions You Should Ask Facilities for Hospice Care in Ann Arbor
Are you or your loved one in the proper hands? Will your needs be met? According to the National Hospice and Palliative Care Organization, you should consider asking a hospice care facility the following questions:
What services are provided?
What kind of support is available to the family?
What roles do the attending physician and hospice play?
What does the hospice volunteer do?
How does hospice work to keep the patient comfortable?
How are services provided after hours?
How and where does hospice provide short-term inpatient care?
How long does it typically take the hospice to enroll someone once the request for services is made?
You must pick a long-term care facility that will meet your expectations, as well as give you the comfort you most desire. At Hillside Terrace, you're family!
We take pride in our life enrichment activities, as they nurture and stimulate the mind, body and spirit of our residents. We believe each resident and family member enriches our community in their own unique way by granting us the opportunity to reminisce of their remarkable accomplishments and life stories.
Hospice Care Services
Long term care facilities like Hillside Terrace Senior Living partner with Great Lakes Caring offering many services for hospice care residents, including:
Aides are available 24 hours a day, 7 days a week
Unique programs like music and massage therapy
Assist with personal needs
Emotional support and assistance
Visit Elara Caring here for more information on the services they offer. "Elara Caring has an unwavering commitment to providing compassionate, quality care." Their patients are their number one priority!
If you're in need of assistance, it's important to have a qualified aid or hospice care center nurse available at all times. It's absolutely crucial to ensure that they're qualified aides and able to suit your needs on a daily basis.
Is it Time For Hospice Care?
Have you or loved one been diagnosed with a life-limiting illness? Do you need around-the-clock care? Is your home not adaptable to meet your special needs? It's important to know your options, and hospice care in Ann Arbor is one of them! Your health and well-being is important to us! That's why at Hillside Terrace we make it our mission to deliver the best quality of care and advocacy that our residents deserve.
What is hospice care?
According to WebMD, "Hospice care provides medical services, emotional support, and spiritual resources for people who are in the last stages of a serious illness, such as cancer or heart failure. Hospice care also helps family members manage the practical details and emotional challenges of caring for a dying loved one."
The goal is to keep you comfortable and improve your quality of life.
Hospice programs offer services in your own home or in a hospice center. Some hospices also offer services in nursing homes, long-term care facilities, or hospitals.
Some people think that starting hospice is a last resort, that it means they're giving up on life. Some think that hospice means a lower level of medical care. WebMD suggests "hospice is simply a type of care that focuses on the quality of your life instead of on continuing with treatment to prolong your life."
The transition from living at home with limited care to hospice care can be one of the most difficult decisions families and their loved ones have to make in the later stages of illness. When a family member can't take care of themselves, it can put a heavy burden on those they love. Many people aren't up to the task of the daily care their loved one may require.