Quality Elderly Care in Ann Arbor Can Help Your Marriage Thrive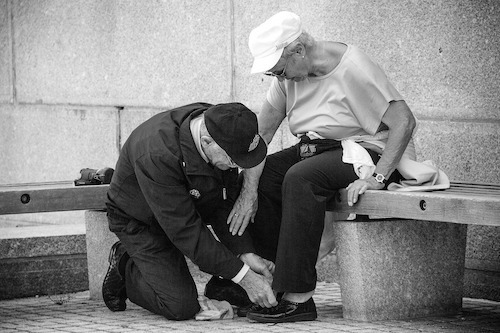 We know that the thought of moving into senior living can be scary. It's a major life change with a lot of unknowns. For a lot of people, their biggest concern is how it will affect their marriage. Some common concerns we hear are:
Will we be separated?
Will we lose freedom or control over our lives?
What will happen if one of us needs more care than the other?
Will we be bored?
Many of our residents had those same concerns before finding Hillside Terrace. And we understand! We think if you visit us for a tour, meet our staff, and talk to some of our residents, you'll find some reassuring answers to your questions about senior living for you and your spouse. In fact, we think you'd look forward to this next stage of your marriage!
Hillside Terrace is home to many couples, like you, who are living life together in a new way. With fewer responsibilities and more recreation options, they're enjoying more quality time together than before. We always want to provide the best living, dining, and assistance options for our residents. But it's equally important that we create a caring, vibrant, inclusive community that nurtures the body, mind, and spirit. We want more for you than just room and board; we want you to thrive together.
You know that a quality senior living community provides clean, safe housing and excellent care. Hillside Terrace takes it a few steps further! We're a family-oriented community in a park-like setting with activities and support designed to feed your body, mind, and soul — and your relationship.
Wouldn't you like to feel confident knowing you and your spouse can enjoy your retirement years together feeling secure and supported — physically, emotionally, and spiritually?
The Best of Senior Living in Ann Arbor
Hillside Terrace is family owned and run and we think of our residents as our extended family. We've welcomed many couples to Hillside Terrace and have designed a lifestyle here to serve your needs and support your independence as a couple, even when you need some extra help.
We want you to live active lives together, sharing more time doing the things you enjoy. Let us take care of the chores like laundry, cleaning, and maintenance that take up so much of your time and energy. You'll have more time to focus on enjoying life together. You might just fall in love again!
Looking for your home at Hillside Terrace is as easy as making a phone call or filling out a form on our website. We'd love to answer your questions and take you on a tour. If Hillside Terrace seems like the right place for you, we can talk about the different elderly care options we can offer to meet your needs. There's no pressure — we want you to feel at home here.
Frequently Asked Questions
Won't we lose our independence moving into a senior living home?
You might be surprised to find that you actually gain some independence instead. When you can turn the "chores" like laundry, cleaning, and upkeep over to someone else, you realize just how much time and energy those activities took out of you.
Will we feel cramped moving from our home to an apartment?
Hillside Terrace offers several different living options, as well as many inviting common areas. Our gardens and walking path offer space to roam and fresh air. We also have a library and computer lounge, a chapel, hair salon, recreation room, and more.
Will we be bored? Are there activities for us?
We think you'll find lots to do here! Our many activities will allow you to have fun together and meet new friends. Some of the options include musical guests/concerts, exercise classes, a writing club, dinners out in Ann Arbor, shopping excursions, and much more.
Will we have help if one of us gets sick or needs help?
We have nurses onsite 24/7 as well as each apartment is equipped with wireless Emergency Staff Alert call buttons. If needed, we can provide medication administration by a Licensed Professional Nurse. We also provide individual monthly wellness checks, weekly on-site physician visits, and a number of other onsite healthcare options.
If Hillside Terrace sounds like the place for you, we'd love to meet you and give you a tour. Call us at 734-761-4451 with your questions or to schedule a visit. You can also send questions or request a tour from our Contact Us page.
We're looking forward to hearing from you and helping you find each other again!