Meaningful Activities Enrich Lives at Hillside Terrace with Lasting Benefits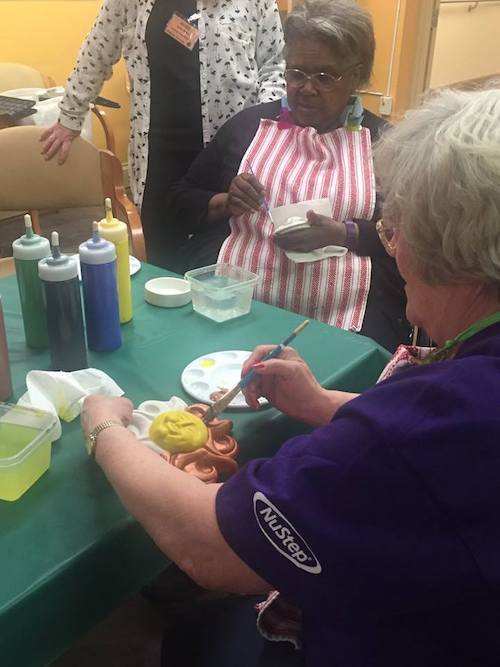 Good memory care facilities in Ann Arbor are hard to come by. When it comes to choosing an attractive, affordable senior living option for yourself or someone you care about, you want something special: outstanding, quality services, a vibrant, friendly atmosphere, and attentive, courteous staff. Hillside Terrace is all this and more! The Litz family – Nanya, Vic, Trey, Amanda, and their grandchildren – are Co-owners and operators of Hillside Terrace, bringing together residents and staff with spirit, energy, warmth and compassion as only family can do.
At Hillside Terrace Senior Living in Ann Arbor, our resident lives are enriched by meaningful activities throughout the day. Keeping active hobbies and interests that give you pleasure is important after an Alzheimer's diagnosis.
According to Alzehimers.net, "stimulating activities can help people with Alzheimer's:
Encourage self-expression
Foster emotional connections with others
Lessen any anxiety and irritability that Alzheimer's may bring
Make people with Alzheimer's feel more engaged
Stir memories"
According to AARP.org, it's important to create meaningful activities for your parents and senior loved ones, not just ones that fill time. Consider interests they had in the past, knowing that some activities may need to be modified for practicality and safety. Keep in mind that Alzheimer's affects behavior and senses in addition to memory. So, the activities that a person once enjoyed may become frustrating or overwhelming now.
Stimulating activities for Alzheimer's are offered at Hillside Terrace!
Book club
Trivia
Cooking group
Scrabble
Arts and crafts
Sing along
Music
Movie night
Gardening
Shopping trips
If your parent or senior loved one resists an activity, take a break. You can try later on or ask your loved one how the activity can be changed to make it more enjoyable.
Benefits to Meaningful Activities
1. Metal Stimulation and Cognitive Health
If you have Alzheimer's, engaging in activities helps stimulate brain health and makes you think. Research has shown that activities may slow down the progression of the disease or even improve cognitive function for a brief time.
2. Physical Activity
Activities that involve physical exercise have benefits to overall health if you're living with dementia or Alzheimer's. Being active can help prevent other health problems and can maintain your mobility.
3. Social Interaction
If you're involved in activities, this can help improve socialization and mental health. If you don't have the opportunity to interact socially, you can feel lonely, isolated or even depressed.
4. Sleep Habits
If you sit in a chair all day and aren't physically active, it's likely you'll fall asleep several times throughout the day. This can interrupt good sleep patterns. Your sleep habits will improve if physical activity is a part of your daily routine.
5. Self-Esteem
In the early stages of memory problems, feelings of incompetence, depression, and anxiety are common. Physical activity can encourage someone suffering from Alzheimer's to experience success, purpose, and enjoyment.
6. Minimize Behavioral Challenges
Physical activity can minimize the effects of challenging behaviors brought on by Alzheimer's such repetitive questioning, agitation, and argumentative interactions.
7. Quality of Life
The quality of life of someone suffering from Alzheimer's disease will significantly improve. Physical activity will help facilitate the foundation of lasting friendships, sharing a joke or a laugh. Sometimes laughter is the best medicine!
Our Residents and Their Families Say it Best!
"Friends and family may likely be one of the most important and overlooked factors in caring for the elderly. The staff at Hillside treat my Mom and all the other residents like family. My Mom came to Hillside lonely and in despair. She's now happily part of a community that feels like family."
Don, Google Review
"My father has been there for three years. Our family is able to visit him anytime, and when we are not there I know that the Hillside staff will care for him with love as though he were their own family. I looked extensively for the right place, and found it. My mother was here for six months before passing away, and they helped our family through this as well. My dad is so happy with his home at Hillside, and when I visit during meal time....I can hear him laughing with the other residents as if they were out to dinner at a fine restaurant. If you are thinking about an Assisted Living Facility, this place is perfect in the Ann Arbor area. I feel like a part of this Hillside Terrace family too. They only hire the very best staff...from the kitchen to the gardener."
Karis, Facebook
"The caring, welcoming and upbeat staff at Hillside Terrace cannot be beat!"
Courtenay, Facebook
Tour Memory Care Facilities in Ann Arbor: Schedule Your Tour Today!
Our "Aging by Choice" philosophy allows a flexibility of options for our residents and their families; you choose what is best for you, and we make it possible. We're confident in our ability to provide the best quality of care, the security, and the family atmosphere you're seeking! We warmly invite you to see the difference we can make when your family shares life with our family.
We can help your family create peace of mind. When you're at home you'll know your loved one is taken care of and in good hands. Schedule a tour of Hillside Terrace today