Heart Health and Dementia: Is There a Connection?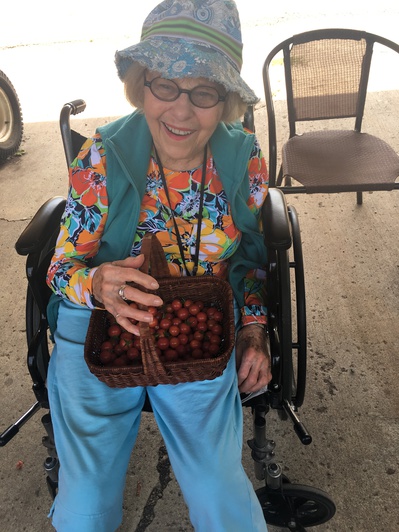 Carol, Hillside Terrace resident, picked fresh tomatoes from our garden.
Do you think there's connection between heart health and brain health?
There is a connection … whether you believe it or not! If you believe it, then you may be better off in the long run than the skeptics. Read on to find out more…
According to WebMD, "vascular dementia occurs when blood doesn't flow properly to the brain. It makes things like decision making, navigating through a familiar neighborhood and coming up with the right words mid-sentence more difficult.
When someone develops cardiac disease, plaque builds up in the walls of the arteries, which can then form blood clots. This makes it difficult for the blood to flow properly, which may reduce the chance of blood making its way to the brain as it should. That's why taking care of your heart is a critical factor in preventing dementia."
How to Reduce Your Risk!
If you follow a nutritious diet and increase your daily exercise, you may be able to substantially reduce your risk. If you're worried about heart disease and dementia, please speak to your health care provider about other ways you can help decrease your risk over time.
Studies have shown that people diagnosed with dementia who perform physical tasks on a daily basis do better in the long run. Daily activities can improve memory, foster emotional connections, improve self-expression, lessen anxiety and irritability, and make the elderly feel happier about the life they're living!
Get Started Today: Schedule a Tour!
Our dementia care facility is available for those who suffer from the following memory illnesses: long-term memory loss, short-term memory loss, Huntington's disease, Dementia, Alzheimer's, and even those who suffer from a traumatic brain injury.
We can help your family create peace of mind. When you're at home you'll know your loved one is taken care of and in good hands. Hillside Terrace – "Where our family shares life with your family!" We warmly invite you to see the difference we can make when your family shares life with our family. Schedule a tour of Hillside Terrace today– a facility for dementia care in Ann Arbor.
Contact us for more information about dementia care offered at Hillside Terrace.