Delirium vs. Dementia: What's the Difference?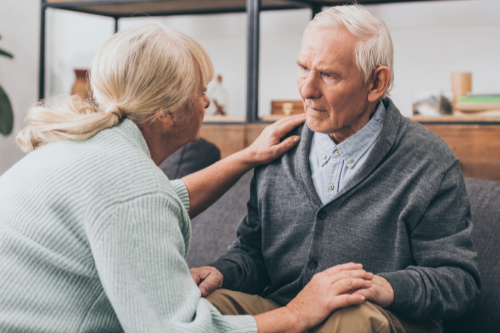 A loved one being confused can be a very challenging experience for you and your family. As your parents get older, you've probably noticed that they have difficulty remembering recent events or that they sometimes show unusual behavior.
How do you know when typical elderly confusion is something more serious?
Delirium and dementia, for example, are common causes of cognitive impairment in older adults. According to A Place for Mom, "although anyone can experience delirium symptoms, this mental disturbance is more common in seniors, affecting up to 50% of older adults at some point in life".
Since delirium and dementia symptoms can be similar, it's important to know what's causing your loved one's confusion.
What are delirium symptoms?
Delirium symptoms often occur suddenly, within hours or days. While delirium symptoms are usually temporary and reversible, these symptoms are also indicative of a serious, new problem that requires medical attention:
Confusion: Rambling or saying things that don't make sense. Having trouble understanding what is being said.
Disorientation: Not knowing where one is or what day it is.
Difficulty with attention and concentration: Suddenly unable to focus. May be easily distracted by unimportant things.
Apathy: Acting distant and withdrawn.
Agitation: Restlessness, anxiousness, aggression.
Speech problems: E.g., slow, slurred speech.
Memory problems: Difficulty remembering recent events and, sometimes, events in the distant past.
Hallucinations: Seeing things that don't exist.
What are dementia symptoms?
People with dementia may have problems with memory, language, thinking, problem solving, and other functions that affect daily living.
Some warning signs of dementia include:
New difficulty speaking, writing, or recalling words.
Losing interest in favorite activities or hobbies.
Trouble keeping up with work, if they're not yet retired.
Behavioral or personality changes.
Struggling to manage finances.
Losing track of time, or missing appointments and events.
Repeating questions, phrases, or behaviors.
How do I know what's causing my loved one's symptoms?
Speculating what's going on with an elderly parent can be stressful. Make sure to speak to a doctor to get a definitive answer, but in the meantime, you should be aware of these key differences between delirium and dementia symptoms:
Delirium begins suddenly and develops quickly. Dementia begins gradually and progresses over time.
Delirium is temporary and reversible. Dementia is permanent and symptoms worsen as the disease progresses.
Common causes of delirium
Anyone, not just elderly people, can experience delirium symptoms as a result of illness or intoxication. Other common causes are medication side effects, dehydration, infections (such as a UTI or pneumonia), and prolonged sleep deprivation.
How you can help elderly adults
If your loved one seems confused, talk to their doctor. There are also some other things you can do to help, including staying connected (check in with your loved one often), pay attention to changes, discuss unusual symptoms with a doctor, and lend a hand during recovery by helping your loved one with daily activities, or seek other care options, such as a memory care facility, which can offer help with meals, bathing, medication management, and more.
Are you looking for the right memory care facility?
Choosing the right senior home for memory care can feel like an overwhelming process, but Hillside Terrace is here to help you! We're a family-owned senior living facility that offers many levels of care, from independent living to enhanced memory care. We pride ourselves on offering varied amenities that give our residents a home away from home.
If you're looking for memory care in Ann Arbor, Hillside Terrace is the place for you!
Our memory care facility includes enclosed courtyards, beautiful gardens and walking paths, serene patios, a sunny dining room, a chapel, a library and computer lounge, a hair salon, a rehab and fitness center, and daily group activities ranging from shopping to volleyball based on your individual needs.
Schedule Your Tour Today! Virtual or In-Person Tours Available
Hillside Terrace provides an "aging by choice" philosophy. We work with your family to create the best possible living situation for your senior relative. Our housing, dining, and care services will make your loved one feel at home! Let our family take care of yours.
Call Hillside Terrace today to learn more about our memory care services at (734) 761-4451 to schedule a visit!