6 Tips for Touring Senior Communities Virtually and In-Person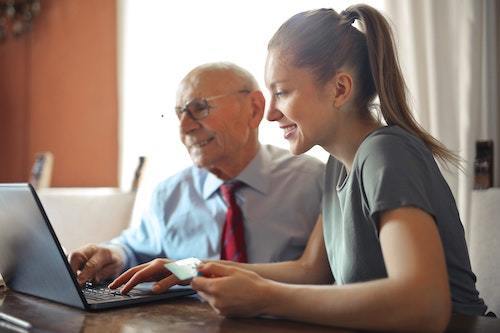 Are you thinking about moving into a senior community?
Finding the right community for you or a loved one will be one of the most important decisions you'll ever have to make.
During a pandemic, it can be a challenge to get a tour scheduled in person. However, the senior communities you're considering should be able to offer a virtual tour if that makes you feel safer and more at ease.
According to A Place for Mom, "No matter which touring method you choose, these tips can empower your family to transition to senior living with confidence."
Observe community layout and tone – Will it accommodate mobility challenges? Does the staff maintain the building's cleanliness?
Prioritize safety and security – How is the community secured? What medical services are available? How accessible is medical help?
Assess staff friendliness, training and qualification – Is the facility and staff accredited? Do staff attend ongoing training? What's the staff-to-resident ratio?
Get to know the community's social offerings – Do the residents seem social, engaged and happy? If you're touring in person, consider visiting during a group activity to observe these interactions with residents.
Consider next steps if care needs progress – In case a loved one's condition advances, make sure the senior living community has steps in place to support them.
Let your instinct lead you – Though questions and tips serve as a handy guide, they're no substitute for your gut feelings."
What Can Hillside Terrace Senior Living Offer?
It can be difficult to find the right community for you or a loved one, but with time and careful evaluation, you'll make a decision that's right for you and your family.
Residents at Hillside Terrace are family. We pride ourselves on providing a variety of amenities to make the senior living experience as enriching and loving as possible. This includes enclosed courtyards, beautiful gardens and walking paths, serene patios, a sunny dining room, a chapel, a library and computer lounge, a hair salon, a rehab and fitness center and daily group activities ranging from crafts to shopping to volleyball. Our professional staff provides maintenance of all apartment homes, buildings and grounds.
We have multiple dining options and provide up to three chef-prepared meals a day. Hillside Terrace secures scheduled local transportation and offers top-notch medical support including round-the-clock nurse support, individual wellness checks, on-site physician, physical and occupational therapy and access to on-site dental, vision, podiatry, lab draws and x-rays.
Schedule Your Tour Today! Virtual or In-Person Tours Available!
If you're thinking about Hillside Terrace as a residence for someone in your family, schedule a tour today. One of our professional staffers will be happy to provide you with all the answers you need.
Hillside Terrace provides an "aging by choice" philosophy. We work with your family to create the best possible living situation for your senior relative – you choose what is best for you, and we make it possible. Hillside Terrace provides the best quality care while maintaining the security and loving atmosphere you desire. Let our family take care of yours.
Make Hillside Terrace Senior Living Your Home Away from Home!
If you're interested in learning more about assisted living at Hillside Terrace or scheduling a tour, contact us today! 734-761-4451