Sunscreen is Not Just for Summer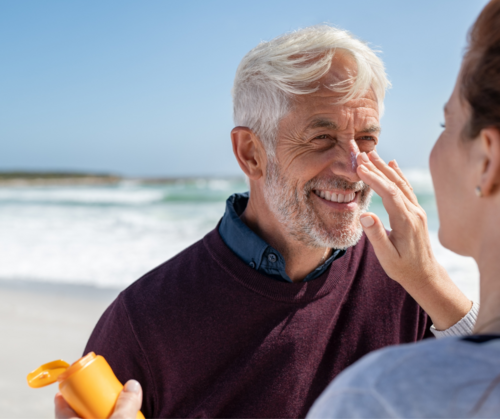 You should be worrying about sunscreen protection all year long – not just during the summer months. While it's important for everyone to wear sunscreen, it's especially important for older adults. Aging skin is more fragile, and sensitivity to sunlight can be a side effect of some medications prescribed to seniors.
According to the Center for Disease Control & Prevention (CDC), "Less than half of older adults protect their skin from the sun when outside for an hour or more on a warm, sunny day."
Protect your skin from sunlight with these tips:
1. Use SPF 30 or higher every day – SPF 30 or higher is best a deflecting the sun's harmful rays.
2. Reapply sunscreen frequently – Make sure you read the directions on the bottle. You may have to reapply every couple of hours.
3. Layer sunscreen generously all over your exposed skin – A thin layer isn't enough protection. How do you know if you're using enough sunscreen? You might find it helpful to fill a shot glass of sunscreen and slather it on your skin.
4. Protect against UVA & UVB rays – Choose a sunscreen that has broad spectrum protection.
5. Try a different kind of sunscreen – Try a spray or stick vs the cream. Each kind offers the same level of protection, but you may find one kind easier to apply than the others.
6. Wear a wide-brimmed hat – A hat can protect your scalp and face from sunburn.
7. Wear clothing to cover your ankles and long sleeves – Hide all of your exposed skin to protect against the sunlight.
Is Assisted Living Right for You?
What kinds of services are needed for your loved one? Consider what's important to you in an assisted living community and you'll be able to decide on the right fit. Still have unanswered questions? Schedule a tour at Hillside Terrace Senior Living to get all your questions answered by our friendly staff.
Allow Your Loved One to Live Comfortably - Hillside Terrace Assisted Living Ann Arbor
When your aging parents move into an assisted living community, you won't have to worry if someone is there to help get them back on their feet. If you're interested in learning more about assisted living in Ann Arbor at Hillside Terrace or scheduling a tour, contact us today! 734-761-4451