What is Sundown Syndrome?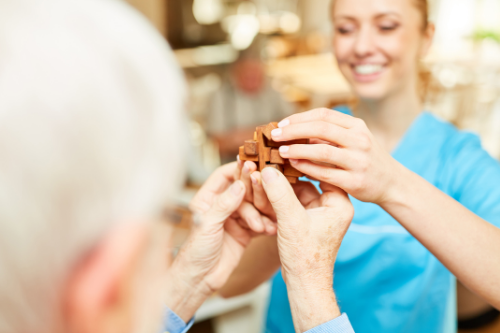 Sundown syndrome is used to describe a range of unusual behaviors that occur during the transition from day to night, like agitation, confusion, and restlessness. The syndrome primarily affects people with Alzheimer's or other forms of dementia. In fact, as many as one in five people with Alzheimer's will experience sundowning, according to the Alzheimer's Association. Sometimes seniors recovering from surgery in hospitals or unfamiliar environments will also experience sundown syndrome.
For some, symptoms of sundowning can be more severe, including:
Hallucinating
Hiding things
Feeling paranoid
Acting violently
Wandering
What triggers sundown syndrome?
It's unknown what causes sundown syndrome, but research suggests these possible triggers:
End of day activity
Fatigue
Low light
Internal imbalance
Winter blues
Infection
If you or a loved one is showing signs of sundowning, it's a good idea to discuss their medications and potential side effects with a doctor.
Are you looking for the right memory care facility?
Choosing the right senior home for memory care can feel like an overwhelming process, but Hillside Terrace is here to help you! We're a family-owned senior living facility that offers many levels of care, from independent living to enhanced memory care. We pride ourselves on offering varied amenities that give our residents a home away from home.
If you're looking for memory care in Ann Arbor, Hillside Terrace is the place for you!
Our memory care facility includes enclosed courtyards, beautiful gardens and walking paths, serene patios, a sunny dining room, a chapel, a library and computer lounge, a hair salon, a rehab and fitness center, and daily group activities ranging from shopping to volleyball based on your individual needs.
Schedule Your Tour Today! Virtual or In-Person Tours Available
Hillside Terrace provides an "aging by choice" philosophy. We work with your family to create the best possible living situation for your senior relative. Our housing, dining, and care services will make your loved one feel at home! Let our family take care of yours.
Call Hillside Terrace today to learn more about our memory care services at (734) 761-4451 to schedule a visit!