Staying Safe After You and a Loved One Get Vaccinated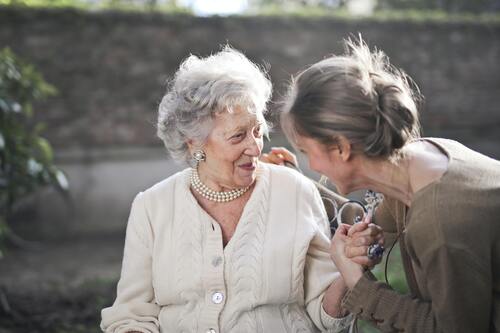 Do you miss the way things used to be before COVID-19?
Are you looking for more ways to enjoy time with your loved ones?
At Hillside Terrace, we want to keep you and your loved ones safe, healthy, and happy. Getting the COVID-19 vaccine was the first step in the right direction!
What We Can do to Stay Safe
Virtual Meetups - Call your family members on Zoom for a face-to-face conversation while maintaining a safe distance. Virtual meet-ups are a great way to connect! Virtual meet-ups are safe, easy, and make it so everyone can be a part of the fun.
Visit Outdoors - If a virtual meetup isn't what you're looking for, spend some quality time outside. Being outside helps reduce your chance of exposure to COVID-19 while also getting some vitamin D! You'll not only be happier seeing your loved one, but healthier too!
Check Yourself - Have a fever or not feeling well? Don't risk it! Whether you have COVID or the common cold, you don't want to risk the health and safety of your loved one. Regularly checking your symptoms and testing for COVID-19 will keep you and those around you safe.
Face Coverings - If you're feeling unsure about your surroundings, mask up! Wearing a face mask protects you and those around you from potential exposure to COVID-19. If you've been exposed, stay isolated until you test negative.
Keeping Clean - Keeping your hands clean after touching shared surfaces is another way to keep yourself safe. We don't often realize how many surfaces are shared with others! Keeping hand sanitizer nearby will allow you to keep your hands clean easily.
Keeping Your Loved Ones Safe - Assisted Living Ann Arbor
At Hillside Terrace Assisted Living in Ann Arbor, we want to keep your loved ones safe, happy, and healthy. Contact us today to learn more about how we are the right fit for your family member.