Staying Active Can Decrease Depression in Those Living With Dementia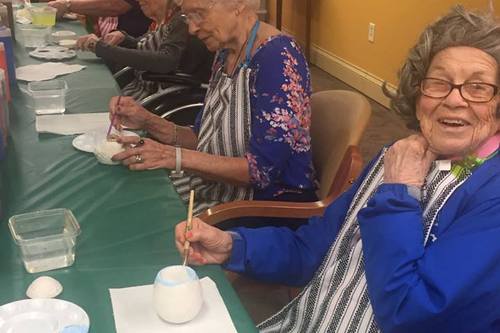 Are you worried about a loved one with dementia suffering depression? Looking for ways to minimize depression for a senior with dementia? Wondering if the effects of staying active are worth the effort for a senior with dementia?
Living with dementia is a heavy burden that can lead to withdrawal and depression. Developing depressive symptoms can begin to dramatically increase the progression of dementia and lead to a decline in function. Because it's very difficult to reverse the progression of dementia, it's crucial that depression be addressed quickly. Or better yet, we can try actively to avoid it altogether!
Research shows that staying active is an incredibly effective way to address depression in those living with dementia. As memory care experts in Ann Arbor, we've put together a list of our best tips for keeping seniors with dementia active to decrease depression.
• Keep a regular daily schedule and reserve difficult activities for the best time of day.
• Make a list of favorite activities, like gardening or painting, and schedule them frequently.
• Encourage and schedule time for exercise, especially in the morning.
• Promote outdoor excursions, even just a brief walk.
• Create social opportunities frequently throughout the day.
• Keep their space full of mentally engaging activities from books, to puzzles, to card games, etc.
• Volunteer at local charities regularly.
• Make opportunities for contributions to household tasks and family activities.
Depression might not look like you expect in someone with dementia. If someone you care for shows any of the following signs, it could be depression and you should talk about it with their doctors and caregivers:
• Loss of appetite
• Fatigue or low energy
• Difficulty or disruptions in sleep
• Withdrawal and isolation
• Agitated behavior
• Irritability
Staying active can be a great way to decrease depression in people with dementia. If you're looking for more information how this can be applied to a senior in your life or if you have more questions about depression or memory care in Ann Arbor, give us a call today. At Hillside Terrace Senior Living, our family shares life with yours.