Secured Assisted Living at Hillside Terrace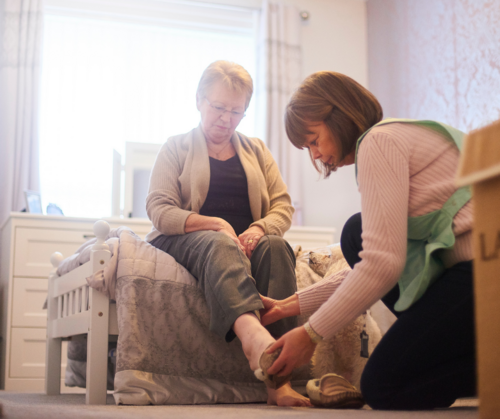 Secured assisted living can give you and your family peace of mind knowing your loved one is being taken care of in a secure environment.
A loved one with Alzheimer's or dementia may wander in their confusion. It can be almost impossible for one person to keep track of another all day and all night at home. It is also difficult to lock up everything that might be dangerous.
What is Secured Assisted Living?
Our team provides enhanced assisted living. Do you or a loved one need assistance with your living situation, but memory care is not yet an issue? A secured assisted living facility may be the right home for you!
How is Hillside Assisted Living Secure?
If your loved one is prone to wondering, a secure assisted living facility like Hillside Terrace Senior Living is a safer living option, with staff monitoring 24 hours a day, automatic door locks, and spacious, clutter-free living spaces.
What Services Do Assisted Living Communities Provide?
The services offered by assisted living communities often include:
One to three meals a day
Monitoring of medication
Personal care, including dressing and bathing
Housekeeping and laundry
24-hour emergency care
Some medical services
Social and recreational activities
Is Assisted Living Right for You?
What kinds of services are needed for your loved one? Consider what's important to you in an assisted living community and you'll be able to decide what the right fit is. Still have unanswered questions? Schedule a tour at Hillside Terrace Senior Living to get all your questions answered by our friendly staff.
Hillside Terrace -Compassionate Assisted Living Community!
Hillside Terrace provides an "aging by choice" philosophy. We work with your family to create the best possible living situation for your senior relative. Our housing, dining, and care services will make your loved one feel at home! Let our family take care of yours.
Hillside Terrace is a facility for assisted living in Ann Arbor. Call us at (734) 761-4451 to schedule a visit!