What You Should Know About Respite Care in Ann Arbor!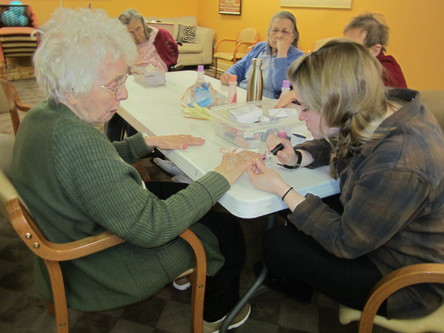 Are you feeling exhausted or overwhelmed with your caregiving duties? Do you need to restore some balance in your everyday life? Do you need a break?
You may have many people depending on you. At times that can get overwhelming. It's important that caregivers take time for themselves to regroup, so they can perform at their very best.
At Hillside Terrace, we provide respite care in Ann Arbor, temporarily relieving you from your primary caregiver duties by giving you time for things like:
Errands
Shopping
Scheduling dentist and doctor appointments
Enjoying some alone time
Vacation/Family functions
Looking For More?
For more information about the respite care in Ann Arbor offered at Hillside Terrace, call us today, or fill out our contact form here! We're focused on holistically improving and maintaining the well-being of our residents through promoting independence, a stimulating environment, and building rapport. Schedule a tour with us today!
Elderly Care in Ann Arbor: Make Hillside Terrace Your Home Away From Home!
We can help your family create peace of mind. When you're at home, you'll know your loved one is taken care of and in good hands. Hillside Terrace – "Where our family shares life with your family!"
Our "Aging by Choice" philosophy allows a flexibility of options for our residents and their families; you choose what is best for you, and we make it possible. We're confident in our ability to provide the best quality of care, the security, and the family atmosphere that you're seeking! We warmly invite you to see the difference we can make when your family shares life with our family.
Respite Care Costs
Temporary care respite stays are usually less than one month long, and can cost between $75 to $200 per day, according to 2012 Genworth.com data. Keep in mind that the cost of respite care can vary with each facility and the services you need. However, financial programs are available that may help pay for respite care. For example, some insurance policies may cover partial costs of respite care, but not all.
There are government programs out that may be able to assist with the rest of the costs, including:
Medicare for short term rehab stays
Medicaid
Veteran's aid
According to A Place For Mom, "Each state has its own guidelines, so you'll need to contact a State Assistance office for more details:
How Long Can Someone Stay in Respite Care?
Respite care is for someone who needs help anywhere from a few days to a few weeks. A caregiver may need to attend a wedding, go on vacation, or may even need time off for the holidays. Respite care can be there for you when you need it. Once someone's usual caregiver comes back after a brief hiatus, your loved one, friend, or family member can return home. Once your loved one is home, the caregiver can return to their usual caregiving activities and responsibilities.
Getting Your Family Involved in Respite Care
Are you having some reservations about respite care? That's okay! Some people have a hard time letting go of some of the responsibility and letting someone help them. According to HelpGuide.org, "even the healthiest families can be severely stressed by ongoing care, and the division of labor is frequently lopsided." They recommend that you encourage support and family participation by:
Talking openly and regularly.
Encouraging family members to evaluate what they can reasonably and honestly do.
Recognizing your own feelings and discussing disproportionate tasks.
Using technology to bridge distances.
Exploring a family respite cooperative.
Participating in support groups.
Respite Care Services
The services and amenities available to Hillside Terrace assisted living residents are also available to respite care residents. These services and amenities include:
Three nutritious meals daily
Medication management
24-hour supervision and security
Assistance with personal care needs such as bathing, dressing, toileting and grooming
Laundry service
Housekeeping
Activities and outings
Transportation
What is Respite Care?
Respite care is a short-term stay at a senior community, usually at an assisted living or retirement home community. According to A Place For Mom, "Respite care is a great living option for an elderly or disabled person who needs some day-to-day supportive services, but still desires social stimulation, engagement and activities. This type of care can also sometimes refer to in-home caregiving services used for only a short period."
If you're a caregiver, being on the job around the clock can take a toll on your physical and emotional health. It's important to know that respite care is there for you when you need a substitute! Imagine how great you'll feel that you took care of yourself sooner, rather than waiting until you collapse from exhaustion.