Knowing When It's Time for Your Parent to Stop Driving!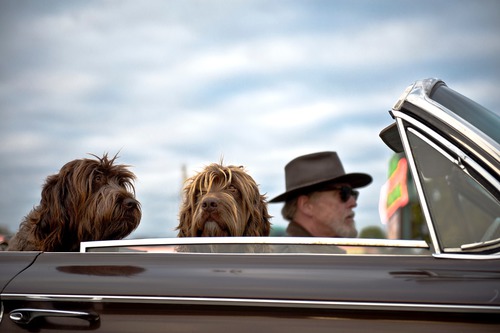 Are you nervous that your parents are still behind the wheel?
Do you fear for their safety?
Are you trying to nudge them into retirement?
Now may be the perfect time! Your parents may think they aren't ready for retirement. However, not having to drive everywhere definitely has its advantages! Imagine how great it would be to deal with no traffic, saving money on car payments, car insurance, license plate renewals, and gas every year. That money will add up! As your parents age, it's important to notice common warning signs that they should limit or stop their driving.
According to AARP, these "are some warning signs that indicate a person should begin to limit or stop driving:
Almost crashing, with frequent "close calls"
Finding dents and scrapes on the car, on fences, mailboxes, garage doors, curbs, etc.
Getting lost, especially in familiar locations
Having trouble seeing or following traffic signals, road signs, and pavement markings
Responding more slowly to unexpected situations, or having trouble moving their foot from the gas to the brake pedal; confusing the two pedals
Misjudging gaps in traffic at intersections and on highway entrance and exit ramps
Experiencing road rage or causing other drivers to honk or complain
Easily becoming distracted or having difficulty concentrating while driving
Having a hard time turning around to check the rear view while backing up or changing lanes
Receiving multiple traffic tickets or "warnings" from law enforcement officers"
The safety of your loved ones and others on the road is definitely a major concern. If you're worried, you need to express your concerns to your parents and tell them how you feel. If your parent is unfit to be behind the wheel, you must say something. You could save a life, theirs or someone else's!
Memory Care in Ann Arbor: What to Expect at Hillside Terrace!
Do you or a family member need a more active social life? Retirement is supposed to be the next exciting phase of your life! Your parents may be opposed to it now, but once they loosen the reins a little they'll realize it was the best decision they could ever have made. Retirement communities have a lot to offer!
At Hillside Terrace, we offer many activities throughout the day that are sure to peak your parent's interest. We offer Meditation, Bocce Ball, Volleyball, Book Club, Baking Group, Bridge, Arts and Crafts, NuStep and so much more!
Read more about the amenities and accommodations we have to offer here.
Best Memory Care in Ann Arbor & the Surrounding Areas!
Our residents and their families say it best:
"How do you thank people who have walked with you to the end of the road? Sharing sometimes the most painful and difficult of journeys…thanking people who have touched us…who all cared in their own way through our nearly 4 year stay with you…A simple "Thank You" – falls short of the emotions that we all feel. Every kind word, gentle touch, every laugh, every gesture was noticed. Your support thru this struggle with Alzheimer's and loss has been deeply appreciated. Your graceful presence at our side when we needed you most, will be remembered. Please know that what every ONE of you did for us, and a man we LOVED so dearly, matters so MUCH. You made such a difference in the LAST part of our Papa's life. The beauty of who you are is clearly evident in the care that you give.
God Bless You All!"
Family of John Siller, "Papa."
"Great, family-run caring facility. My mother liked it before she needed their care. We've been very happy with their care and services since several years now. A good value. Increasing care needs have been progressively available and provided by Hillside."
Jim Norman
"My father has been there for three years. Our family is able to visit him anytime, and when we are not there I know that the Hillside staff will care for him with love as though he were their own family. I looked extensively for the right place, and found it. My mother was here for six months before passing away, and they helped our family through this as well. My dad is so happy with his home at Hillside, and when I visit during meal time....I can hear him laughing with the other residents as if they were out to dinner at a fine restaurant. If you are thinking about an Assisted Living Facility, this place is perfect in the Ann Arbor area. I feel like a part of this Hillside Terrace family too. They only hire the very best staff...from the kitchen to the gardener."
Karis Kruzel
Get Started Today: Schedule a Tour!
Our memory care facility is available for those who suffer from the following memory illnesses: long-term memory loss, short-term memory loss, Huntington's disease, Dementia, Alzheimer's, and even those who suffer from a traumatic brain injury.
We can help your family create peace of mind. When you're at home you'll know your loved one is taken care of and in good hands. Hillside Terrace – "Where our family shares life with your family!" We warmly invite you to see the difference we can make when your family shares life with our family. Schedule a tour of Hillside Terrace today– a facility for memory care in Ann Arbor.
Contact us for more information about memory care offered at Hillside Terrace.