Finding Assisted Living for Dad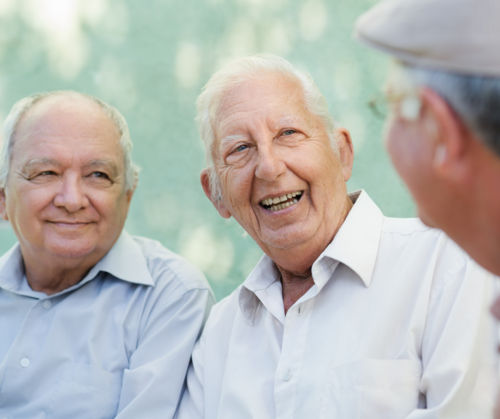 Did you know that more than 70% of senior living residents are female, according to A Place for Mom?
Making the decision to move to assisted living is a big step for all aging adults, but it's particularly difficult for elderly men.
Finding a great fit for your dad or male family member doesn't have to be a struggle! Some assisted living communities offer activities and services especially for men, so you can rest assured that your loved one is getting the important social interaction and medical care they need.
Why are More Women than Men Entering Senior Living?
Did you know eighty percent of senior living staff members are women? According to the American Geriatrics Society, "researchers found patients of both sexes most often select providers of the same gender. Older men may be uncomfortable with female nursing assistance with activities of daily living (ADLs) such as dressing or bathing, and would prefer a male caregiver".
The desire to remain self-sufficient, coupled with this discomfort, prevents some men from exploring senior living options. Touring senior living communities and meeting other male residents can help eliminate some of these roadblocks.
More Men Are Entering Senior Living Now Because…
Innovations in senior living arrangements – Today's senior living facilities offer restaurant-like meal services, housekeeping, fitness classes, and transportation to outside activities.
Serious health conditions – Health conditions no matter how serious are the driving force behind seniors entering assisted living.
Activities for men are easier to find - More assisted living facilities have men's groups, veterans' clubs, and more masculine spaces like pubs and game rooms.
How do you Know When it's Time to Make a Change?
Do you or a neighbor routinely check in on your aging parent? Does your loved one require physical therapy? Is your aging parent able to continue living independently? Knowing the answers to these questions can help you decide if moving into an assisted living community is the best option.
Moving your loved one into an assisted living community eliminates chores and tasks that may be a source of stress or frustration. When your loved one is provided with round-the-clock care, you can rest easy.
Allow Your Loved One to Live Comfortably - Hillside Terrace Assisted Living Ann Arbor
When your aging parents move into an assisted living community, you won't have to worry if someone is there to help get them back on their feet. If you're interested in learning more about assisted living in Ann Arbor at Hillside Terrace or scheduling a tour, contact us today! 734-761-4451