7 Crucial Dementia Symptoms to Watch for in Aging Parents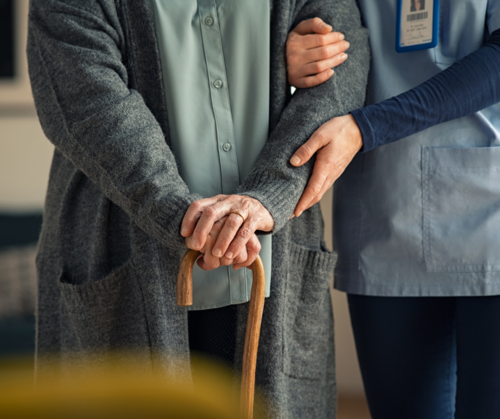 It's scary when your aging parent is experiencing symptoms of Alzheimer's disease. The fact is, however, that in people aged 65 and over, the risk of developing dementia symptoms doubles every five years.
Because you're so close to your parents, you are best equipped to spot troubling behavior patterns and become your parent's advocate. This includes recognizing that your parent may need assisted living. Many of our families at Hillside Terrace have faced questions such as:
Is my parent just experiencing typical forgetfulness that occurs with age?
Should I make an appointment with my parent's doctor?
If my parent does have dementia, do they need to move into a facility?
Can my parent thrive in assisted living?
If you've asked yourself any of these questions, you are not alone. As our population ages and our parents are living longer, concerns about Alzheimer's Disease and other forms of dementia are extremely common.
The good news is that along with the increase in the elderly who have some form of dementia, care options have also increased. At Hillside Terrace, our assisted living facility in Ann Abor includes everything from enriching day programs to family experiences, as well as a sense of security for a parent's physical safety and mental well-being. Our programs not only solve your crucial concerns, but also provide meaningful and personalized solutions for your family.
Do you still have questions about assisted living? If you have concerns about a family member, we're here to reassure you that a diagnosis of Alzheimer's Disease is not the end of your parent's story. There are many opportunities to enrich their lives and provide a thriving experience for as long as possible.
If you're concerned that your parent may be experiencing dementia, watch for these seven symptoms:
Difficulty remembering or coming up with words. While older adults frequently speak more slowly and take extra time to come up with the right word, having this problem on a daily basis is a sign of concern. If you notice a parent regularly forgetting words or losing track of his or her thoughts in daily conversations, this is a potential symptom of dementia.
Losing Track of Time. If your parent frequently forgets the day of the week, the month, the year, or important dates and holidays, this is a symptom to track. It can also be useful to doctors if you track how often this forgetfulness occurs.
Problems Remembering Commitments. As with losing track of time, forgetting appointments or plans consistently is a frequent symptom we see in families seeking assisted living in Ann Arbor. Forgetting one lunch date may not be a red flag, but persistent confusion that leads to donating money to scammers over the phone? Or driving after dark when he or she's not supposed to? This type of behavior certainly warrants a call to your parent's doctor.
Lack of Ability to Learn New Things. If you notice behaviors such as forgetting a new address or directions repeatedly, avoiding new activities, or being unable to understand a new idea or plan, this is a potential dementia symptom you will want to track.
Struggling with Finances. If a parent is suddenly having trouble managing their money, this is another symptom to bring to the doctor. If you see that a parent's bills are piling up or that they are confused by balancing their checkbook, it's a sign of concern that you should take seriously.
Repeating Themselves. If you begin to notice new over-repetition in your parent's conversation, take note. If, for example, they offer the same comments or tell the same joke repeatedly, be sure to track the occurrence and the frequency for your parent's doctor.
Losing Interest in Favorite Activities. Finally, has your mother suddenly lost her lifelong passion for musical theater in favor of TV repeats? Is your dad's beloved work on his car sitting stalled in the garage while he sits inside? As long as your parent seems physically healthy, this type of loss of interest is a symptom to note.
If you've noticed any of the above behaviors in your elderly parent, you may be confused about what to do. The good news is that there are numerous resources to help you get the proper diagnosis and care. Your parent's doctor is your first stop. At your visit, you can share the behaviors you've tracked. The doctor may also look for physical symptoms of dementia, such as agitation and mood swings; wandering or getting lost; sleep or eating issues; picking at the air in front of them or making repetitive bodily movements; and lack of bladder or bowel control.
If, after a thorough examination process, your parent is diagnosed with significant dementia, please contact us at Hillside Terrace. We offer a wide range of amenities, care options, and will help you develop a plan for your loved one's care and peace of mind.
If your loved one has been diagnosed with Alzheimer's or dementia, we welcome you to contact Hillside Terrace assisted living in Ann Arbor. We would love to meet you, hear about your needs, and see how we can help enrich your parent's life while keeping them healthy and safe. Please call Hillside Terrace for assisted living in Ann Arbor at (734) 761-4451 or contact us online today!