Daily Activities Help Residents With Memory Care Ann Arbor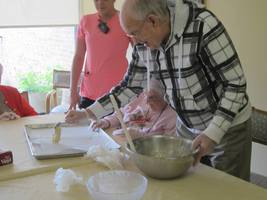 "Alzheimer's is the 6th leading cause of death in the U.S. and the only cause of death among the top 10 in the U.S. that cannot be prevented, cured or even slowed," according to the Alzheimer's Association.
At Hillside Terrace we offer memory care in Ann Arbor that helps enrich the lives of people who suffer from the disease. Alzheimer's can take a devastating toll on person's ability to have a conversation or even respond to a family member or caregiver.
However, people who're diagnosed with the disease who perform daily tasks ultimately helps stimulate their mind. Daily activities can improve memory, foster emotional connections, self-expression, lessen anxiety and irritability, and make them feel happier about the life their living!
Some of Hillside's daily activities include:
• Arts and crafts
• Book Club
• Walking Group
• Baking Group
• Bingo
• Volleyball
• Bocce Ball
• NuStepping
• Scrabble
• Music
• And more!
Memory Care in Ann Arbor: Make Hillside Terrace Your Home Away From Home!
Our memory care facility is available for those who suffer from the following memory illnesses: long-term memory loss, short-term memory loss, Huntington's disease, Dementia, Alzheimer's, and even those who suffer from a traumatic brain injury. We can help your family create peace of mind. When you're at home you'll know your loved one is taken care of and in good hands. Hillside Terrace – "Where our family shares life with your family!"
Nestled in the heart of the Old West Side on 10 acres of orchard and gardens, we offer a diverse combination of residents that will quickly become members of your loved one's family. We're confident in our ability to provide the best quality of care, the security, and the family atmosphere that you're seeking! We warmly invite you to see the difference we can make when your family shares life with our family. Schedule a tour of Hillside Terrace today!