Best Time to Visit Assisted Living Communities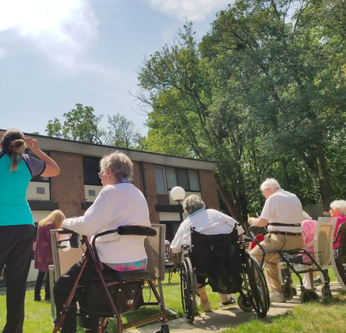 Is your loved one resisting the idea of a visit to an assisted living facility?
Are they scared to leave behind the life they know?
Do you need help reassuring them that life in an assisted living community doesn't mean they'll be lonely? It's a new way to live!
We suggest that you visit during social events like festive dinners or events – you can request a calendar of events be mailed to your loved one to help your family find the right time to visit. Hillside Terrace Senior Living has many different activities going on every month – from cooking club, to our walking groups in our garden, to casino night!
There's an activity for everyone, no matter what you're into! If we're missing out on something that you enjoy, let our activities department know and we can try to add it to our list!
Assisted living has many great things to offer you and your family! At Hillside Terrace, we offer flexible living options customized to fit your needs.
Our 49 apartment homes monthly rental includes:
Weekly housekeeping and laundry services based on lifestyle option
All utilities (except telephone); includes satellite TV with 30 channels
Wi-Fi internet
Dining choices with three chef-prepared meals per day as well as snacks
Nurses on site 24/7 for wellness visits & urgent medical concerns
Activities included in our Daily Living Services: these levels are determined by a registered nurse and based on someone's individual needs.
Quality Assisted Living in Ann Arbor, Michigan
At Hillside Terrace, we put ourselves in your shoes. We want you to feel right at home! We treat our residents and their families the way we'd want to be treated if our roles were reversed.
We'll help you make a smooth transition into the community of your choosing, including:
For floorplan information and availability for assisted living in Ann Arbor, please contact us today at (734) 761-4451.