5 Ways Assisted Living Communities Inspire Seniors to Get Involved!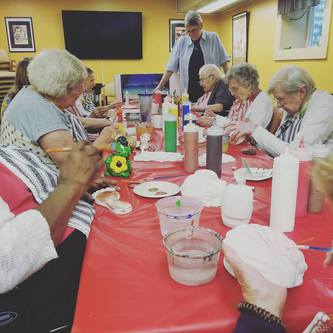 Are you considering assisted living in Ann Arbor for yourself or a family member? Wondering how assisted living communities keep seniors involved? Interested in the benefits of assisted living for a senior in your life?
Some seniors have traditionally resisted the idea of assisted living with preference for independence. What you may not know is assisted living is designed to maximize independence and get residents involved.
Unfortunately, independence at home can sometimes lead to greater isolation and withdrawal which ultimately has a significant impact on health. By creating a community, assisted living facilities combat this tendency of the senior years and keep residents involved and thriving!
Although the list could much longer, here at the top 5 ways assisted living communities inspire seniors to get involved:
1. Support
Assisted living offers each community member the appropriate level of support so they aren't overwhelmed by daily tasks and can maintain a level of independence and stay motivated. By taking some things off their plate, there is more time to enjoy being involved!
2. Peers
Family, friends, and neighbors do offer their own web of support for the seniors in their lives, but it doesn't quite compare to a community of people who really know what you're going through and are close enough to see every day. The peers at assisted living communities can be a great motivating and supportive force for involvement.
3. Care
From healthy meals to on-site medical attention and support, all the care needs of residents are met and attended to at an assisted living community. This availability of care can greatly reduce the amount of time needed to maintain health, freeing residents to spend more time being involved. The peace of mind afforded by care availability is also valuable to residents and benefits motivation.
4. Activities
With so many activities tailored to their needs available on-site or arranged by staff, it would be difficult for seniors not to get involved in an assisted living community! From outings, to classes, to exercise groups, there is an activity to appeal to anyone. By eliminating the burden of arranging transportation and scheduling, seniors are free to try and engage in a range of activities that keep them involved.
5. Volunteering
Getting seniors involved in volunteering or any kind of charity work creates a great sense of purpose and motivation to stay involved. Whether this is a volunteer job within the community, making crafts for a local or major charity, or a more active volunteering opportunity, it's an effective way to motivate and maintain involvement in an assisted living community.
Staying involved is a key factor in maintaining mental and physical well-being for all people, including seniors. With these 5 ways to help get seniors involved, assisted living communities have a leg-up on living alone.
If you have more questions about assisted living in Ann Arbor or keeping your senior loved one involved, give us a call today. At Hillside Terrace Senior Living, our family shares life with yours.