Memory Care Activities That Keep Seniors Active and Engaged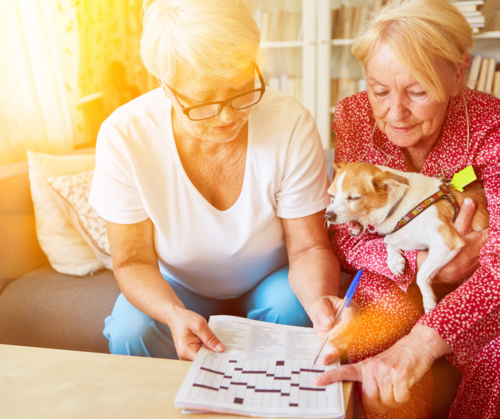 Are your senior loved ones finding it difficult to complete everyday tasks?
Are you or a loved one showing signs of cognitive decline or memory loss?
Is your loved one consistently forgetting basic knowledge?
To help improve your loved ones memory to remember the things they love, A Place for Mom, recommends "eight popular memory care therapies:
1. Music Therapy:
Play classic records or tunes from a jukebox
Encourage musically inclined residents to play their instrument or sing — often, music-related muscle memory remains even as verbal and mental abilities decline
Host sing-alongs of hymns, holiday carols, or school songs
2. Video Therapy:
Compile tapes of home videos for each resident
Screen well-loved shows and movies from the 1940s through the 1980s
Transport residents with footage of popular travel destinations
3. Stimulating Therapy:
Offer collections of picture puzzles of varying difficulty
Encourage residents to explore sensory boxes or boards for texture stimulation
Host games that inspire friendly competition, like matching tiles, identifying silly facts, or playing charades
4. Memory Prop Box Therapy: Memory box items may include any of the following:
A photo album
A treasured Christmas ornament
A wedding dress, military uniform, or favorite item of clothing
An audio recording of nature sounds or family voices
5. Art Therapy:
Encourage artistically inclined residents to express themselves using their medium of choice — as with music skills, artistic muscle memory can persist as verbal and mental abilities decline
Provide old magazines or pictures for residents to create collages
Art instructors lead workshops and classes for residents
6. Pet Therapy
Place tanks of colorful fish for visual stimulation
Offer realistic, robotic cats or dogs for risk-free pet therapy — interaction with robotic pets has been shown to have similar benefits to therapy with live pets
An engaging bird for residents to help care for and feed
Residents watching puppies or energetic dogs play outdoors or in common areas
7. Taste and Scent Therapy:
Bake a classic gingerbread recipe to inspire holiday memories
Plan an activity where residents guess the scents of essential oils or wax melts
Brew strong-smelling coffee each morning to get residents up and going with a familiar smell
Use scents like chocolate chip cookies or apple pie to stimulate appetite
8. Tactile Stimulation
Encourage residents to close their eyes and identify an object, like a stuffed bear or wooden spoon, by touch
Collect soothing fabrics like velvet, fur, or silk for dementia patients to sort
Use a resident's personal items, like a beaded wedding dress or favorite pair of cufflinks, to inspire reminiscence about special events
Craft diverse texture boards from materials like carpet, tile, sandpaper, or stones for residents to explore and identify
Memory Care Designed with You in Mind!
If you're looking for memory care in Ann Arbor, that place might be Hillside Terrace. We've been family owned and operated since 2006. Our assisted and independent living community is a nurturing and stimulating environment on beautiful grounds with many amenities. For years we've dreamed of opening a specialized memory care facility to provide a safe, caring home for this vulnerable population. We're honored to welcome residents to our new Hillside Terrace Memory Care home opening in the Winter of 2023.
Our philosophy is a holistic focus on the wellbeing of our residents. We know that promoting independence, creating an engaging environment, and developing relationships based on trust are key to building a real home here for your loved ones.
We have different lifestyle options available to meet many needs. Contact us today to learn more. We understand the decision you have ahead of you is very difficult and we're here to answer your questions. We're looking forward to welcoming your family into ours.